Fulbright Alumni at UC San Diego
As a world-class public research university, UC San Diego boasts a number of Fulbright alumni among our faculty, educators and administrators. Below you can find information on past Fulbrighters teaching and working on campus.
ARE YOU A FULBRIGHT ALUM AT UC SAN DIEGO?
SHARE YOUR EXPERIENCE WITH US!
We are currently gathering information on Fulbrighters affiliated with UC San Diego. If you are a former Fulbright grantee at UC San Diego, please complete this brief form with details about your experience. In addition to being added to this directory, you will be invited to community-building and networking events with Fulbrighters past, present and prospective. 
---
FULBRIGHT SCHOLAR SPOTLIGHT: MICHAEL PRATT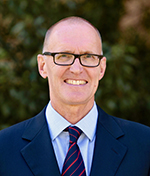 Dr. Michael Pratt, Director of the UC San Diego's Master's of Public Health (MPH) Program, is spending the 2022-23 Academic Year in Palacky University Olomouc in the Czech Republic as a Fulbright Distinguished Chair, the most prestigious award offered by the Fulbright Scholar Program. Dr. Pratt has worked with peers at Palacky since 2010 through the International Physical Activity and the Environment Network (IPEN) Project and the Global Observatory for Physical Activity (GoPA!). Dr. Pratt intends to collaborate with peers and learn best practices from Palacky in order to advance the Herbert Wertheim School of Public Health and Human Longevity Science (HWSPH) as a global leader in public health education and research.
Though this is Dr. Pratt's first Fulbright Award, he was instrumental in launching the Fulbright Chair in Public Health Sciences at HWSPH with Fulbright Brazil. UC San Diego hosted its first Chair, Dr. Pedro Hallal from the Universidade Federal de Pelotas (UFPel), in 2021.
---