About the U.S. Student Program

---
The Fulbright U.S. Student Program expands perspectives through academic and professional advancement and cross-cultural dialogue. Fulbright creates connections in a complex and changing world. In partnership with more than 140 countries worldwide, the Fulbright U.S. Student Program offers unparalleled opportunities in all academic disciplines to passionate and accomplished graduating college seniors, graduate students, and young professionals from all backgrounds. Program participants pursue graduate study, conduct research, or teach English abroad. 
During their grants, Fulbrighters will meet, work, live with and learn from the people of the host country, sharing daily experiences.  The program facilitates cultural exchange through direct interaction on an individual basis in the classroom, field, home, and in routine tasks, allowing the grantee to gain an appreciation of others' viewpoints and beliefs, the way they do things, and the way they think. Through engagement in the community, individuals will interact with their hosts on a one-to-one basis in an atmosphere of openness, academic integrity, and intellectual freedom, thereby promoting mutual understanding.
Please note that U.S. citizenship is a requirement for all awards offered through the U.S. Student Program. 
Explore the different opportunities through the Fulbright U.S. Student Program below to find the right award for you!
Apply for a Fulbright through UC San Diego
UC San Diego supports aspiring Fulbrighters at every stage of the application. Below is some important information and resources to start your Fulbright journey!
UC San Diego supports applications for current UC San Diego undergraduate students, graduate students and alumni within two years beyond graduation. 
By applying through UC San Diego, applicants receive the following support:
One-on-one advising with the UC San Diego Fulbright Program Advisor.
Peer support from a current cohort of UC San Diego Fulbright applicants.
Access to UC San Diego resources such as the Writing Hub for guidance on writing statements of grant and personal statements.
Application review and feedback by Fulbright alumni at UC San Diego.
Mentorship opportunities with Fulbright alumni, including mock interviews and networking events.
It is never too early to start preparing for a Fulbright. To start the process and get connected, contact UC San Diego's Fulbright Program Advisor today! 
Fulbright awards typically correspond to an academic year, starting in Fall and ending the following Summer. The application cycle and process starts one year prior to the award cycle. Below is an outline of expectations and deadlines:
October to March
Attend info sessions and workshops offered throughout the academic year. Applicants will be invited to these activities directly or they will be posted on the Fulbright Webinars and Events page. 
April
Attend Fulbright Day, UC San Diego's signature Fulbright event. 

 
May 
Decide on a grant type and country.
Complete UC San Diego Fulbright Applicant Interest Form to be added to the next cycle's cohort.
June 
Identify potential institutions and affiliates and begin making contact (if applicable)

 

Review application components and plan your process

 
July  
Meet with Fulbright Program Advisor.

 

Solidify institutional affiliation (if applicable)

 .

Identify recommenders.

Outline statements of grant and personal statements.

 
August 
Revise and complete statement.

 

Secure letters of recommendation and affiliation letters

 

Meet with Fulbright Program Advisor

 
September 
Submit application materials for UC San Diego internal deadline.

 

Schedule feedback session with UC San Diego Fulbright Review Committee

 
October 
Submit all application materials in Fulbright portal by agency deadline.
Once applications are submitted, the Fulbright Program will contact applicants in late January or early February to inform them if they are semi-finalists and provide details on the next steps in the process. Finalists are announced in April. 
Fulbright Resources
The Fulbright Program offers a robust resource library, including dozens of webinars on award types, the grantee experience and the application process. Watch these webinars and explore the resources available to learn more about Fulbright and set yourself up for a successful application!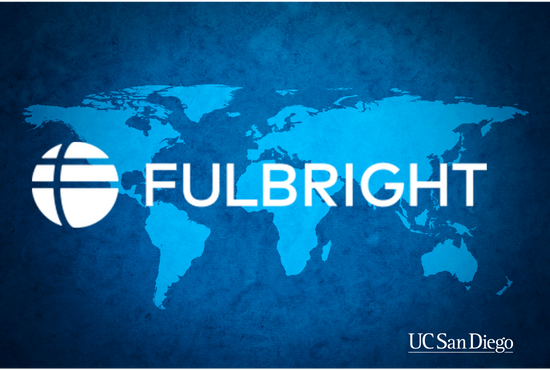 Fulbright Student Webinar
This session from the 2021 virtual Fulbright Day contains information for undergraduate and graduate students who are interested in a Fulbright award to study, teach, conduct research, enroll in a graduate program and more!
Click HERE for the PowerPoint Presentation.
Writing Workshop
This special session from the Virtual Fulbright Day 2021 provides useful tips and tricks for students on how to write a high-quality and competitive Fulbright application.
Click HERE for the PowerPoint Presentation.
Click HERE for a one-pager on how to best tackle the Fulbright application personal statement.
What is Fulbright?
Watch this informative video on the mission and purpose of the Fulbright Program.
I Am Fulbright
Fulbright welcomes applicants from all backgrounds and identities to showcase to the world the rich diversity that exists in the U.S.
Why Should You Apply to Fulbright?
Hear from Fulbrighters firsthand on why you should consider a Fulbright.